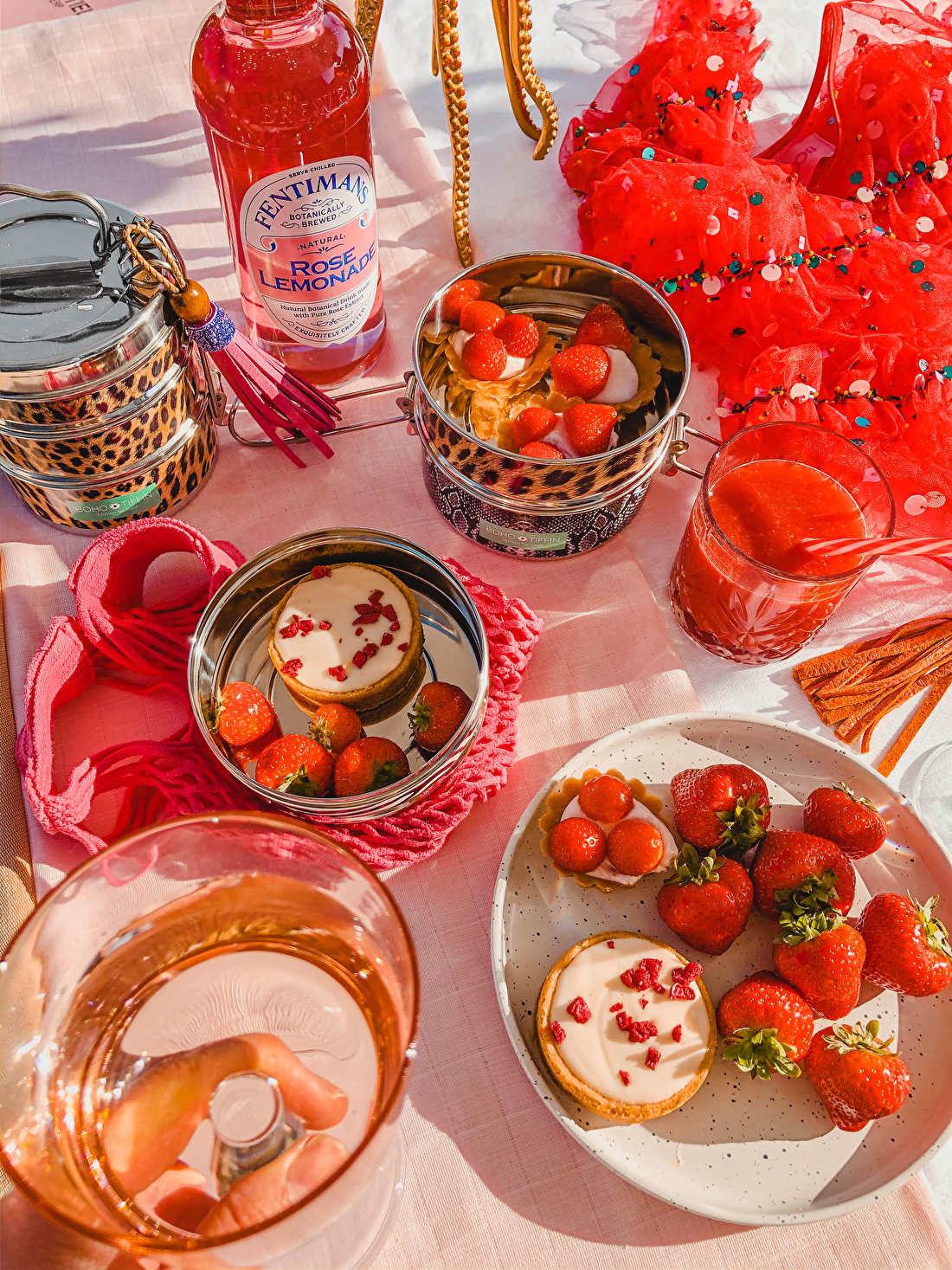 You'll find the tiffin, also called dabba or rantang in every Indian household and kitchen. It has been a part of the Indian foodculture for centuries. Tiffin literally means 'second breakfast' or 'lunch' and was originated in Britisch India.
TRADITION
The stacked boxes are a traditionally used box to easily transport fresh homemade Indian food. In Mumbai alone there are 175.000 tiffins transported by 4.000 tiffin couriers called Dabbawala's. Curious about this great tradition, check out the movie The Lunchbox.

The idea is simple: you choose one of our tiffin designs. After that, you choose your favorite size, after that choose one of our handmade leather tassels or we also have vegan tassels (imitation leather). To finish your set choose the netbag color you like. Everything is possible and each combination is unique. Don't hesitate and pick your Boho-Tiffin!
Lotus

Our Sizes

HANDMADE

All products and accessories are handmade and eco-friendly. The leather tassels are made of rest material or vegan (imitation leather) and the netbags are stretch cotton. The tiffins are stainless steel which…

€ 44,95

Oh La La

Our Sizes

HANDMADE All products and accessories are handmade and eco-friendly. The leather tassels are made of rest material or vegan (imitation leather) and the netbags are stretch cotton. The tiffins are stainless steel which…

€ 44,95

Botanic White

Our Sizes

HANDMADE All products and accessories are handmade and eco-friendly. The leather tassels are made of rest material or vegan (imitation leather) and the netbags are stretch cotton. The tiffins are stainless steel which…

€ 44,95

Safari Edition

Our Sizes

HANDMADE

All products and accessories are handmade and eco-friendly. The leather tassels are made of rest material or vegan (imitation leather) and the netbags are stretch cotton. The tiffins are stainless steel which…

€ 44,95

Rosie

Our Sizes

HANDMADE

All products and accessories are handmade and eco-friendly. The leather tassels are made of rest material or vegan (imitation leather) and the netbags are stretch cotton. The tiffins are stainless steel which…

€ 44,95

Fruity Orange

Our Sizes

HANDMADE All products and accessories are handmade and eco-friendly. The leather tassels are made of rest material or vegan (imitation leather) and the netbags are stretch cotton. The tiffins are stainless steel which…

€ 44,95

Boho-Bottle Pink 350 ML

Our newest Boho-Bottle! A beautiful pink bottle, matches your Boho-Tiffin lunchbox.

Super easy on the go with your hot and cold drinks in it!
Put it into your Netbag together with your Boho-Tiffin. ∙ Cold water or cold drinks…

€ 14,95

Paisley

Our Sizes

HANDMADE

All products and accessories are handmade and eco-friendly. The leather tassels are made of rest material or vegan (imitation leather) and the netbags are stretch cotton. The tiffins are stainless steel which…

€ 44,95

Bella Donna

Our Sizes

HANDMADE

All products and accessories are handmade and eco-friendly. The leather tassels are made of rest material or vegan (imitation leather) and the netbags are stretch cotton. The tiffins are stainless steel which…

€ 44,95

Botanic Black

Our Sizes

HANDMADE All products and accessories are handmade and eco-friendly. The leather tassels are made of rest material or vegan (imitation leather) and the netbags are stretch cotton. The tiffins are stainless steel which…

€ 44,95

Panter Classic

Our Sizes

HANDMADE All products and accessories are handmade and eco-friendly. The leather tassels are made of rest material or vegan (imitation leather) and the netbags are stretch cotton. The tiffins are stainless steel which…

€ 44,95

Cutlery Set

Made of wheatgrass, contains a Fork, Spoon and Knife for all your on the go lunches.

€ 6,95

Juicy Lemon

Our Sizes

HANDMADE All products and accessories are handmade and eco-friendly. The leather tassels are made of rest material or vegan (imitation leather) and the netbags are stretch cotton. The tiffins are stainless steel which…

€ 44,95

Pavone

Our Sizes

HANDMADE All products and accessories are handmade and eco-friendly. The leather tassels are made of rest material or vegan (imitation leather) and the netbags are stretch cotton. The tiffins are stainless steel which…

€ 44,95